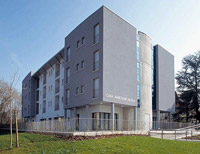 Students will be hosted in single or double rooms at the residence "Casa Marcolini Facella", via Grazzine 14, 25128 Brescia. The residence is 30 minutes by walk from the school venue and is served by public transportation (see the map below). Students will be equipped with bikes for free.
Each room is equipped with private bathrooms and air conditioned. Each student will receive a bathroom set that includes a beach towel and two towels. Rooms are cleaned three times per week.
The residence is equipped with reception (24 hours a day), reading rooms, TV room, lunchroom, and internal car parking. A coin laundry is available at the ground floor (4 Euros for washing and drying, including washing powder). Luncheons should be booked in advance at the reception at this price: starters (3,50 Euros), second courses (4,00 Euros). Students can also bring personal take-away luncheons in the lunchroom. Coffee, drink and snack/sandwich machines are available at the ground floor.
To get to the residence from the railway station, take bus "7" in front of the exit (direction "Caino") and stop "Piazzale Roncalli n. 6". The residence is opposite the stop.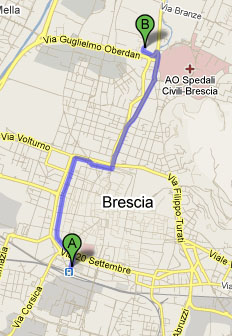 From the Railway Station to the residence "Casa Marcolini Facella"